KTR-1200 Reflow Soldering Oven
KTR-1200 is an automatic reflow solder machine with 8 Heating Zones which capable of lead-free reflow soldering. it's a good choice for high-volume and high-reliability required electronics products such as smartphones, automotive, aviation products, military products, etc. which can save your cost all around.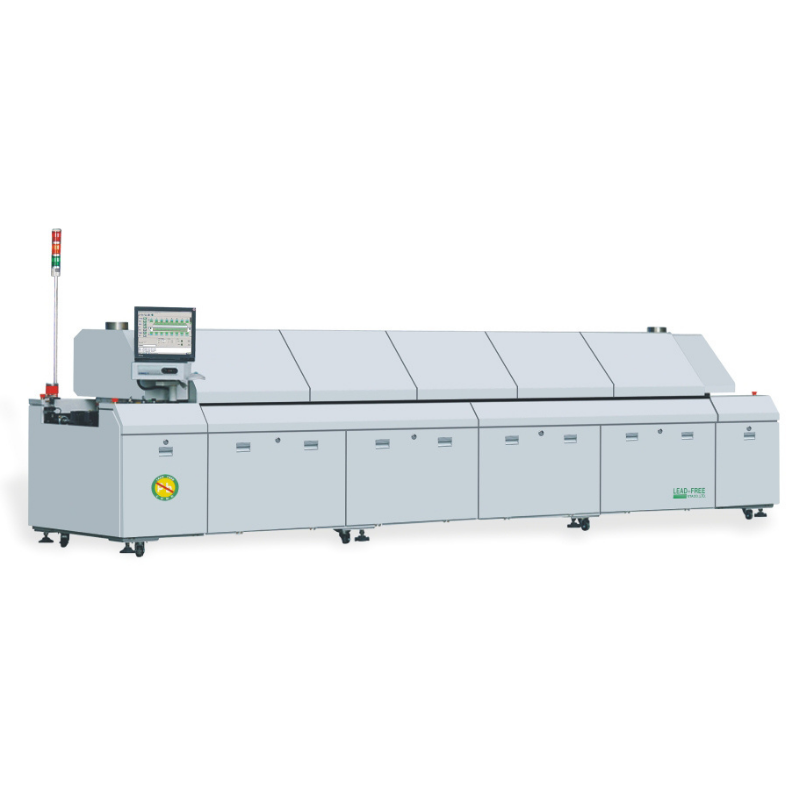 KTR-1200 Wave Soldering Machine:
1. Heating zones
Every heating zone can be closed separately on the computer. When the bottom heating zones are closed, the PCB two sides temp. different reaches max. (PCB of different material, thickness, size, the temp. the value will be different.)
2. Heating parts
Hot air motor
Anti-high temperature motor, RPM:2800rpm, Inverter control, we can adjust the speed of the motor can be adjusted from 0 to 3000, stepless. The motor warranty is 5 years.
Heater
The heater is specially made, High efficiency and sensitivity, 5 years warranty.
Air lane structure
High efficient air lane, provides abundant air
3. Transmission parts
Anti torque rail
High strength and hardened rail, is very durable and wear-resistant.
4. Machine structure
Dismountable structure, provide wide space for maintenance. Double electric cylinder to open the hood, with self-lock function, safe and reliable. Self-made holder, easy to clean up
5. Electrical parts and controls
Industrial PC control system with PLC, Modular and PID, stable and reliable, with high repeat accuracy. Built-in creepage protector.
Real-time monitor
Generate the operation record daily, if there happen some problems, the responsible operator will be found easily.
Temperature profile
Generate the profile for each zone daily, user can review and analyze. This function is not for PCB profile testing, just for inspecting when some problem happens in a certain zone.
Production database
Generate production statements for all kinds of PCB and statistics, printable.
Alarm System
The system saves all alarm information for the user to review the alarm item and time. The system enters cool down mode when the alarm is strict.
Abnormal alarm
1.PCB runs abnormally 2. Operation abnormal 3.Temperature abnormal 4.Conveyor speed abnormal 5. Hot air devices abnormal.
Flux recycle device
Standard configured. When using nitrogen, as it is closed recirculation, if the flux fog cannot be spread, it will pollute the PCB.
| Model | KTR-1200 |
| --- | --- |
| Machine parameter |   |
| Dimension(L × W × H) | 7050*1430*1530 |
| Color | Computer grey |
| Weight  | Approx 3310 kg |
| Number of heating zone | Top 12/Bottom 12 |
| Length of heating zone | 4765mm |
| Number of cooling zone | Top 3/Bottom 3 |
| Rectifying plate structure | Small circulation |
| Exhaust volume requiement | 12m³/min*2(Exhausts) |
| Control system |   |
| Power supply requiement | 3 phase ,380v 50/60HZ(Option:3 phase ,220v 50/60HZ |
| Total power | 96KW |
| Startup power | 42KW |
| Normal power consumption | 11KW |
| Warming Time | Approx:20min |
| Temperature control range | Room Temperature -300℃ |
| Temperature control method | PID close loop control + SSR driving |
| Temperature control precision  | ±1℃ |
| Temperature deviation on PCB | ±1.5℃(by RM board test standard) |
| Data storage | Process data and status storage |
| Abnormal alarm | Abnormal temperature(extra-high/extra low temperature after constant temperature) |
| Board dropped alarm | Singal light(yellow-warning;green normal;red -Abnormal |
| Conveyor system |   |
| Rails structure | Overall sectional type |
| Chain structure | Double buckle for preventing board jammed |
| Max width of PCB | 400mm(option:460mm) dual-rail 300mm*2 |
| Range of rail width | 50-400mm(option:50-460mm) dual-rail 300mm*2 |
| Component height | Top 30/Bottom 30mm |
| Conveyor  direction | L→R(option:R→L) |
| Conveyor  rail fixed type | Front rail fixed(option: Rear rail fixed) |
| PCB conveyor direction | Air-reflow=chain+mesh(N2-reflow=chain option:mesh) |
| Conveyor height | 900±20mm |
| Conveyor speed | 300-2000mm/min |
| Auto-lubrication | Multi-lubricating mode can be chosen |
| Cooling system |   |
| Cooling method | Air cooling and Water chiller |
Have Questions?
We're always on call to solve your problem
Will you provide on-site support ?

Our team of qualified and experienced engineers is available for on-site maintenance and repair support. you can reach us through online chatbox, skype, Whatsapp, phone call and email, we're always on call to help you solve the problems.

Any training will be provided ?

We offer complete training programs for all of our Pick and Place Machine, Reflow Equipment, Wave and Selective soldering equipment at our Shenzhen, Suzhou facility and also provide on-site training at customer locations.  Our programs are designed to provide your engineers, technicians and machine operators with the operation and maintenance knowledge they need to get the best performance out of our machines.

Where can I get spare parts ?

You can visit our spare parts store to get the parts you need, payment by Paypal/credit card is available. besides, you can contact us for the parts, payment by Bank transfer is available.