Smart BGA Rework Station
R8650C is a fully automatic visual alignment BGA rework station, suitable for automatic visual placement of various chip on large PCB boards(such as 5G communication boards), automatic soldering, and automatic desoldering. It can be combined with SAP/ERP to realize the software linkup(optional), and to realize the temperature curve analysis with S/N as the retroactive condition.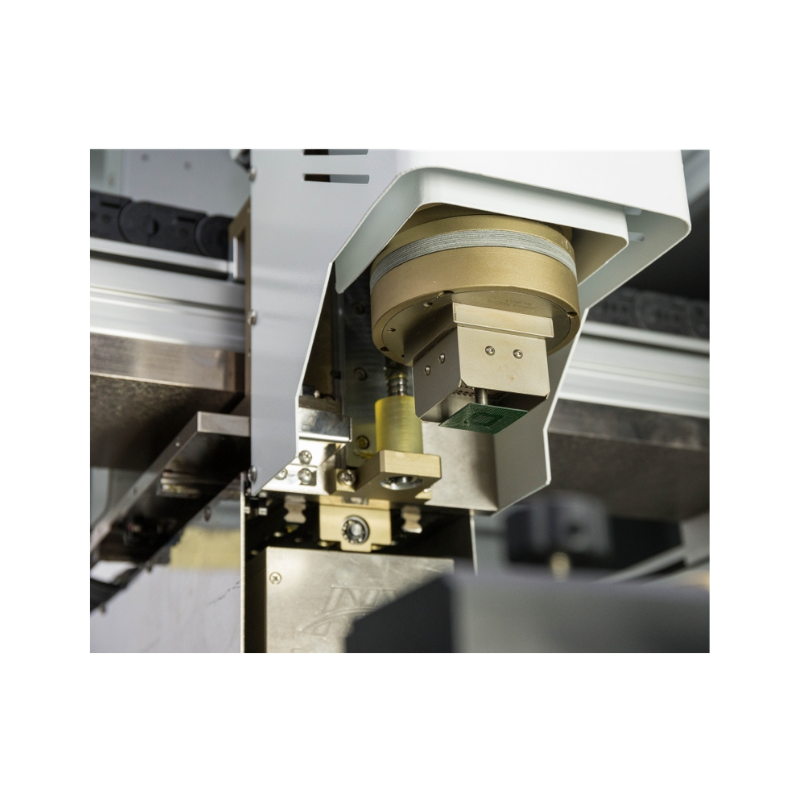 Precise Visual Alignment
Two sets of high-definition industrial cameras are used, and the repeat placement accuracy reaches ± 0.01mm. The 5 million pixels high- definition industrial camera system is for accurate measurement and positioning of the chip, the automatic vision software system automatically corrects the angle, and the image is displayed in HD.
ESD lonizer
Equipped with ionizer, which effectively eliminates static electricity on the board and protects the product.
Precise Motion Platform
It adopts industrial PC and servo motion control system to accurately control the X/Y/Z four-axis gantry structure to operate fully automatically and independently. It adopts a grinding marble platform and a precise grinding screw. The visual accuracy can reach ± 0.01mm.
Multifunctional Control Feature
The self-developed software realizes fast positioning and stable temperature curve (with curve analysis function), easy operation and setting, and it can automatically generate record files to achieve traceability of historical parameters.
The operation interface is simple and fast, and a professional operation interface (system parameter setting, working mode setting, heating parameter setting, data recording, etc.) is set for different product characteristics, and there are Chinese and English interfaces to choose.
Three Independently Programmable Heating Zones
Three heating zones independently programmed and controlled; convection hot air heating in the top heater and the bottom, the heater adopts a large area heating wire layout, suitable for the repair of larger BGA, and the infrared preheating zone uses the German imported medium wave ceramic infrared heating Plate heating. The area can reach 645×524mm.
Stable Temperature Control
High-precision K-type thermocouple with accuracy up to ± 1 ℃, dynamic PID multi- loop closed control selective reflow soldering process. With intelligent temperature compensation, and automatic memory function.
Bottom Heating System
The bottom preheating adopts the heating plate imported from Germany, and the built-in temperature measuring probe is more accurate, which effectively solves the heating temperature control effect. The bottom moving temperature zone automatically moves with the head to improve the board rework efficiency.
Model
R8650C
Power Supply
AC380V±10% 50/60Hz
Power
Total power 22KW Upper temperature zone(2KW) Lower temperature zone(2KW) Other power(1.8KW)
Preheating temperature zone(16KW)
PCB Size
660x600mm(Max) ; 10×10mm(Min)
BGA Chip Size
100×100mm(Max) ; 1×1mm(Min)
IR Temp. Zone Size
640×520mm
Motion Control
X/Y/Z
External Temp. Sensor
8PCS
Control System
Industrial PC+Servo motion control system
Display System
24"SD display
Alignment System
ZM pixels visual alignment system
Vacuum adsorption
Full automatic
Alignment Accuracy
±0.025mm
Temp. Control
K-type thermocouple(closed-loop), intelligent temperature compensation system with accuracy up to ±1℃
Feeding Device
Semi-automatic
Positioning
V-groove with universal fixture(shaped fixture can be customized
Dimensions
L1235×W1215×H1850mm
Weight
993.5KG
Have Questions?
We're always on call to solve your problem
Will you provide on-site support ?

Our team of qualified and experienced engineers is available for on-site maintenance and repair support. you can reach us through online chatbox, skype, Whatsapp, phone call and email, we're always on call to help you solve the problems.

Any training will be provided ?

We offer complete training programs for all of our Pick and Place Machine, Reflow Equipment, Wave and Selective soldering equipment at our Shenzhen, Suzhou facility and also provide on-site training at customer locations.  Our programs are designed to provide your engineers, technicians and machine operators with the operation and maintenance knowledge they need to get the best performance out of our machines.

Where can I get spare parts ?

You can visit our spare parts store to get the parts you need, payment by Paypal/credit card is available. besides, you can contact us for the parts, payment by Bank transfer is available.