R7830A is a Optical Alignment Automatic Rework Equipment.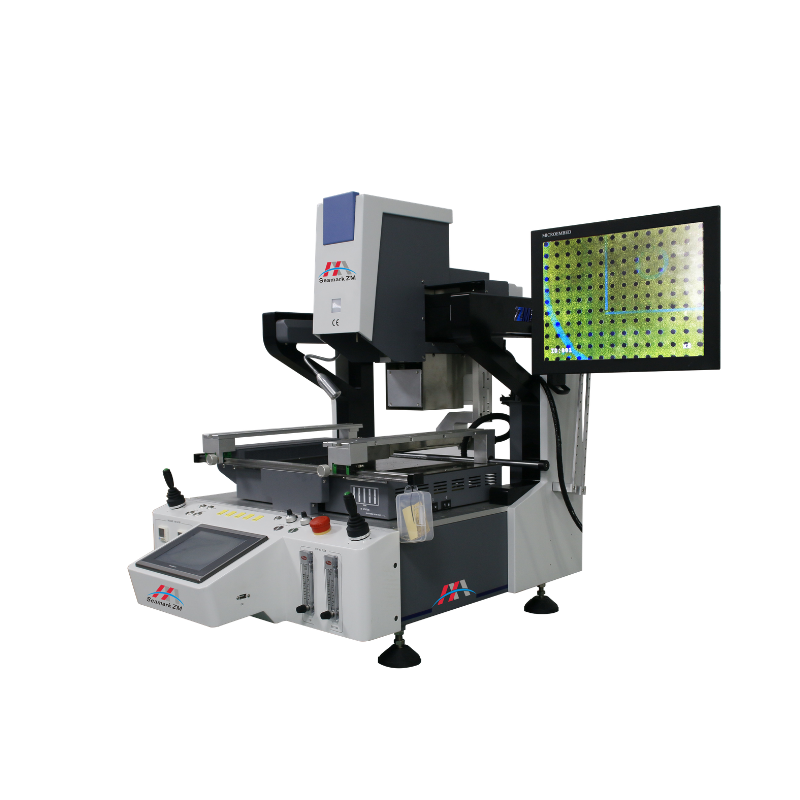 X/Y/Z Axis Automatic Displacement
The top temperature zone is controlled by the joystick control servo system, which can automatically move and align at fast/slow speed by X/Y/Z Axis.
Vacuum Adsorption and Nitrogen Protection
The top heating head has a built-in vacuum suction nozzle for chip adsorption, electrically controlled 360- degree rotation alignment, with negative pressure monitoring and pressure protection device. The bottom temperature zone adopts a large-area heating wire layout, moves symmetrically with the top temperature zone, and can be connected with nitrogen to prevent PCBA from yellowing.
Model
R7830A
Power Supply
AC380V±10% 50/60Hz
Power
Power 7.15KW(Max) Top heater(1.45KW )
Bottom heater(1.2KW) IR Pre heater(4KW) Other(0.5KW)
PCB Size
565×467mm(Max) ; 6×6mm(Min)
BGA Chip Size
80×80mm(Max) ; 2×2mm(Min)
IR Temp. Zone Size
500×380mm
Motion Control
X/Y/Z
External Temp. Sensor
5PCS
Operation Method
8"HD large touch panel
Control System
Panasonic PLC+Temp. control module
Display System
15"HD industrial screen(1080P 16:9)
Alignment System
2M pixels HD digital imaging system, automatic optical zoom with red-dot indicator
Vacuum adsorption
Automatic
Alignment Accuracy
±0.01mm
Temp. Control
K-type thermocouple closed-loop control with accuracy up to ±1℃
Feeding Device
Yes
Positioning
V-groove with universal fixture
Dimensions
L810×W1100×H950mm
Weight
151KG
Have Questions?
We're always on call to solve your problem
Will you provide on-site support ?

Our team of qualified and experienced engineers is available for on-site maintenance and repair support. you can reach us through online chatbox, skype, Whatsapp, phone call and email, we're always on call to help you solve the problems.

Any training will be provided ?

We offer complete training programs for all of our Pick and Place Machine, Reflow Equipment, Wave and Selective soldering equipment at our Shenzhen, Suzhou facility and also provide on-site training at customer locations.  Our programs are designed to provide your engineers, technicians and machine operators with the operation and maintenance knowledge they need to get the best performance out of our machines.

Where can I get spare parts ?

You can visit our spare parts store to get the parts you need, payment by Paypal/credit card is available. besides, you can contact us for the parts, payment by Bank transfer is available.